A Conversation with Robin Gostovich, Fair Oaks Native and Special Outreach Coordinator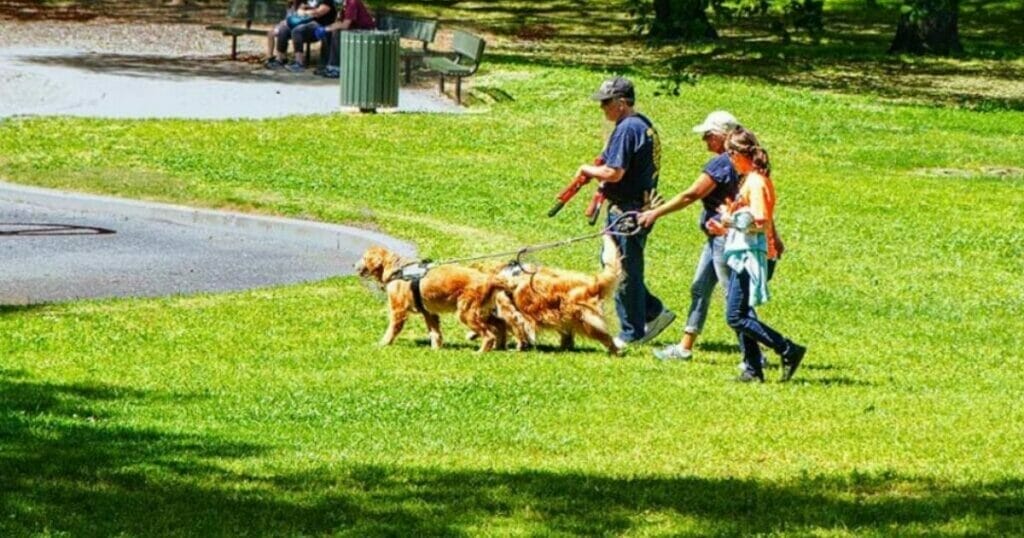 Have you ever thought about rescuing a furry friend in need? Well, let me introduce you to Norcal Golden Retriever Rescue. This incredible organization rescues and places Golden Retrievers into loving foster homes throughout California, from Reno to Fresno.
I recently had the pleasure of speaking with Robin Gostovich, the Special Outreach Coordinator for Norcal Golden Retriever Rescue. Robin is a Fair Oaks native and a proud dog mom to three beautiful Golden Retrievers, two of whom she brought to our interview: Heroe and Donnie, both rescues.
Norcal Golden Retriever Rescue is entirely volunteer-based, which means everyone who works with them does so out of their love for animals. They rely heavily on donations and grants to continue their fantastic work: to save as many Golden Retrievers as possible and place them in loving, forever homes.
When a dog is relinquished to Norcal Golden Retriever Rescue, one of their volunteers will get the dog, bringing it back to their home since they do not have a central facility to house the animals. From there, the dog is placed into a foster home where they are individually evaluated for their behavior and given any necessary medical treatment. In addition, they ensure each dog is spayed or neutered, up to date on their vaccinations, heartworm tested, and treated if necessary. This process ensures the dog is healthy and ready to find their forever home.
Robin got involved with Norcal Golden Retriever Rescue six years ago when her daughter, Taylor, wanted to adopt a Golden Retriever. She made it clear that it had to be a rescue, and that's when they found Norcal Golden Retriever Rescue. Robin fell in love with the organization and has been volunteering ever since.
If you're considering adopting a furry friend, consider checking out Norcal Golden Retriever Rescue. You will give a dog a second chance at a happy life and support a fantastic organization dedicated to rescuing and placing these beautiful dogs in loving, forever homes.
Robin has three Golden Retrievers, and as she put it, they're like potato chips – you can't have just one! It's clear that Robin has a deep love for dogs, and her passion for rescuing and caring for Golden Retrievers is genuinely inspiring.
One interesting fact about Robin's love for Golden Retrievers is that it led her to meet her husband, Mark. It happened when Robin was coming out of Starbucks with her furry friend Donnie, who was wearing his best dog bandana that day. Mark walked by and leaned down to pet Donnie, telling Robin he also had Golden Retrievers at home. Robin initially thought he was saying that to make conversation, but as it turns out, it was true. So the two started talking, and eventually, their love for dogs became a love for each other. Three years later, Robin and Mark got married, and now they share their passion for Golden Retrievers and with the world. Seeing how something as simple as walking your dog can lead to life-changing moments and meaningful relationships is impressive.
It's truly amazing to see Norcal Golden Retriever Rescue's impact beyond just rescuing and placing dogs. As Robin mentioned, they have started helping folks in their community who need dog food or supplies assistance.
They work closely with Orangevale food banks, supplying not just regular food but also dog food. And they're not just limited to helping dogs; they also work with organizations like Jake's Journey, which supports unclaimed and homeless veterans, and Growing Past Today, which provides pet food for unhoused kids and their pets.
It's incredible to see how much Norcal Golden Retriever Rescue cares about their human and furry community and how they're willing to go above and beyond to help those in need. It's truly inspiring and makes me want to support them even more.
Suppose you're feeling inspired to help out Norcal Golden Retriever Rescue. You can make a difference by donating any gently used dog leashes, collars, supplies, or dog food.
You can drop off your donations to me at my office RE/MAX GOLD Fair Oaks, located at 5252 Sunrise Blvd. Suite 6 in Fair Oaks, CA. Call me at 916-320-2663 beforehand so I can let the front desk know when to expect you. Every little bit helps, and your generosity can significantly impact the lives of these beautiful dogs and their caretakers. Thank you for considering supporting Norcal Golden Retriever Rescue!
To learn more about Norcal Golden Retriever Rescue, visit their website, follow their Facebook group, Norcal Golden Retrievers Rescue, or contact Robin. You can also join her private Facebook group at