"You ain't never had a friend like Meeeee!" This song has been dancing around in my head since we saw the live theatre production of Disney's Aladdin on Thursday evening at the Sacramento Community Center Theatre. If you haven't been to a Broadway Sacramento Musical, and this is your first, it is going to set the bar high on your expectations forever. I've heard that the Lion King is the best, but I haven't seen it so for me, Aladdin is number one.
The performance was breathtaking. I brought my son, who recently turned 29 and had never been to a Broadway musical, with me. At first, he thought that coming was just a thoughtful gesture for his mother. However, as soon as the curtain opened and the live orchestra began playing, he couldn't help but gasp in amazement. I whispered to him, "It's a Broadway production," as if it should be obvious. Through hanging out with my group of blogger friends in Sacramento and attending many Broadway Sacramento musicals, I have come to realize that my son is just now discovering that his mother is cool.
I was delighted to see how much my son was enjoying the show. As a child, Aladdin was his favorite Disney movie, and he couldn't stop smiling throughout the performance. He clapped loudly and even whistled during the big applause numbers. The energy in the theater was electric, as the entire audience was excited and engaged. It was a truly pleasant experience, and my son was still talking about it days later.
Yes the carpet does fly!
The stage set was truly spectacular. I had never seen anything quite like it before. The use of Swarovski crystal beads and gold accents made the stage sparkle and shine. The highlight of the show was the scene where Aladdin and Jasmine sang "A Whole New World" while flying on a magic carpet under the moon and stars. It was truly beautiful, and the best part was that the carpet really did fly, adding to the magic of the moment.
The genie in the show was incredibly entertaining, adding a comedic touch with his modern-day references and playful interactions with the audience. The show was non-stop entertainment, with not a single dull moment.
This Broadway musical production is truly grandiose, requiring 20 trucks to transport its stage sets, lighting, equipment, and costumes. An impressive 200 people are involved in the production of each performance of Aladdin, including actors, stage crew, musicians, hair stylists, and makeup artists. I learned this information from my son, who had the opportunity to speak with some of the crew during intermission.
I hope this experience will inspire my son to see more plays in the future. It was very meaningful for me to share this experience with him, and I hope he will have the opportunity to take his own child to see a show like this one day.
BEFORE THE SHOW

Before seeing a Broadway Musical, we like to meet for a drink at the Amourath 1819 located inside the Hyatt Regency Sacramento or Downtown & Wine. Both are classy and offer excellent service.
I AM GIVING AWAY SOME SWAG! ENTER TO WIN @ILOVEFAIROAKS INSTAGRAM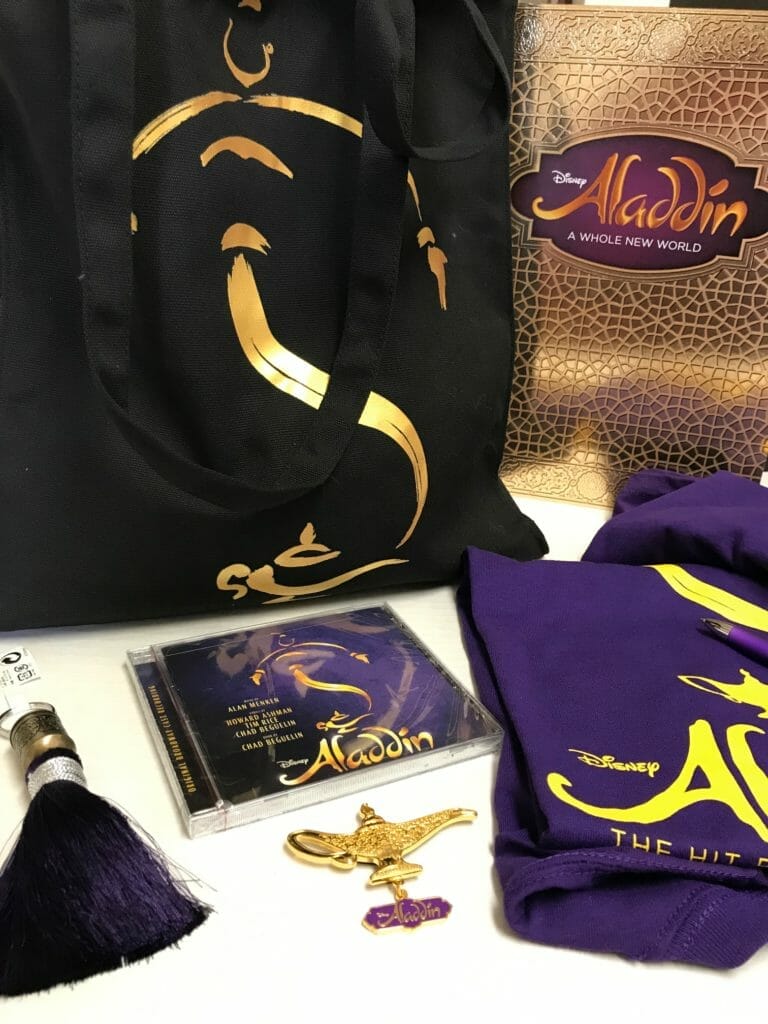 Thank you to SacramentoTop10 and Broadway Sacramento for inviting me to review the show and providing the prizes for me to give my audience. I'll be doing a giveaway on the I Love Fair Oaks Instagram page. Enter to win some great Disney's Aladdin swag. Contest ends June 3rd, 2019.
ALADDIN PLAYS THROUGH JUN 2, 2019
Get showtimes and ticket information at the Broadway Sacramento website. See what's coming in 2020. Don't forget to check out Music Circus at the Wells Fargo Pavillion.