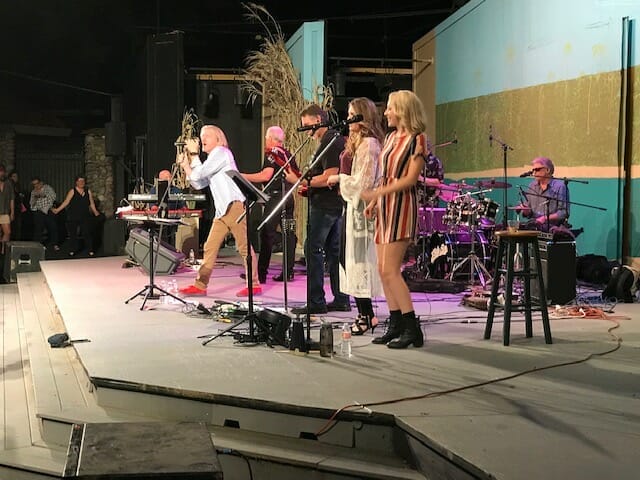 The summer of 2019 season of the Fair Oaks Theatre Festival has begun! Kicking off with a sophisticated rock and funky jazz sounds of Steelin' Dan – the Music of Steely Dan. I enjoyed them so much last summer when they played at the Veterans Memorial Amphitheatre in Fair Oaks, CA.
It was a beautiful evening that began with a colorful sunset. Pinks & violets in the sky would later be an indicator of coming showers. There was this chicken so content with the crowd. Even sitting in laps and on shoulders. It walked through as people danced and also got up on stage and walked around the band as they played before finding a comfy spot to roost. It was the neatest thing.
It rained. There was a flash of lightning in the sky, and Sandford said that if it starts raining, you will see a bunch of musicians running off the stage. Well, it didn't shower right away, but in the middle of a great set, we started to feel a drop, then another. Still dancing. Nobody wanted to acknowledge it, and the band played on as long as they could. When the drops starting coming down bigger and faster, we knew it was time to call it quits.
The band said that they would have loved being on Fair Oaks Live before the show. So, we did the next best thing. We walked over to Stockman's in Fair Oaks Village. It was busy, but we found a booth and Sandford joined us. He's one impressive dude. Wow!
I wish we had more time with the band members. All of them are wonderful and talented. I'm sure they are as exciting too. So often the lead singer gets the attention, and I think that's why Sandford emphasizes that there are no prima donnas in the band.
Several of the band members also teach music.
Sanford teaches high school English and a culinary arts class to HS seniors. Both of his parents were college professors. He spent about 30 years working in the restaurant business and did well for himself, but he decided that he wanted to offer more by teaching.
The band enjoys playing together and feel like it's a bonus that people want to pay them to do what they love.
I think you will enjoy listening to the interview and if you stick around to the end, you'll see the chicken too.
It was a fantastic night! If you get a chance to see Steelin' Dan perform, do it! Visit the Steelin' Dan website and find out where they're playing next. They have an interesting Facebook page with videos and an Instagram page for you to connect with.
What's next at Fair Oaks Theatre Festival?
Gilligan's Island! Opening June 14th – July 15th, 2019.
Mamma Mia! Opening August 9th – September 8th
HIGH TIDE
A Tribute to the Beach Boys and Surf Music
July 20,2019
SPECIAL EVENT
The New Christy Minstrels
JULY 28, 2019
CARAVANSERAI
The Santana Tribute
JULY 27, 2019
NIGHT MOVES
A Tribute to Bob Seger and Creedence Clearwater Revival
​SEPT 14, 2019
PAPERBACK WRITER
The Beatles Experience
OCTOBER 5, 2019
See showtimes and buy tickets at the Fair Oaks Theatre Festival.